As a student of sales and marketing for more than 25 years now and after acquiring an advertising degree from the Art Institute, I consider this to be one of the most important lessons for people to remember.
Marketing is among the most misunderstood and abused of business practices. Trillions are cumulatively wasted each year. Everyone thinks that they have a good understanding about what marketing is all about, and yet it is rare to find anyone who actually knows how to distill marketing down to its essence.
Marketing is a simple process of creating conversations with the people that you want to influence and persuade.
And yet there is all kind of jargon and acronyms to try and complicate marketing, which only confuses people further. There seems to be a belief in Big Business environments that the more you confuse people, the more you can charge in a contract.
This of course is counterproductive for entrepreneurs, solopreneurs, freelancers, and small business owners. We need results, and we need them now. We can't get lost in the forest of marketing and never find our way out.
In my system of marketing, all of our efforts are engineered to grow four particular metrics, and these are…
The Four Marketing Metrics That Matter
I don't track website visits, followers, or subscribers (helpful, but I don't particularly care). I track only these things in my marketing funnel:
→ Customer Relationship Timeline →
Prospects —> Leads —> Conversions / Clients —> Inactive Clients
(These metrics are EVERYTHING)
Prospects: Your Ideal Customers
Prospecting is the act of getting people into your funnel. This is  known as "cold" marketing. You are basically finding people  who do not know you exist, and making an introduction, and an offer to connect.
It is easy to find prospects online, they are everywhere. I teach many of these methods in the Growth Marketing course, including scraping techniques. But the key is to learn the best methods for targeting so that you can find the most engaged prospects who are likely to convert. Targeting everyone, or targeting no one in particular, dooms our efforts before we even begin.
One of the biggest mistakes people make in this stage: "Drive by selling" — trying to get people who  have no idea who you are to sign up for your service or try  your offer never works very well, yet that's what most people  try to do 😞😞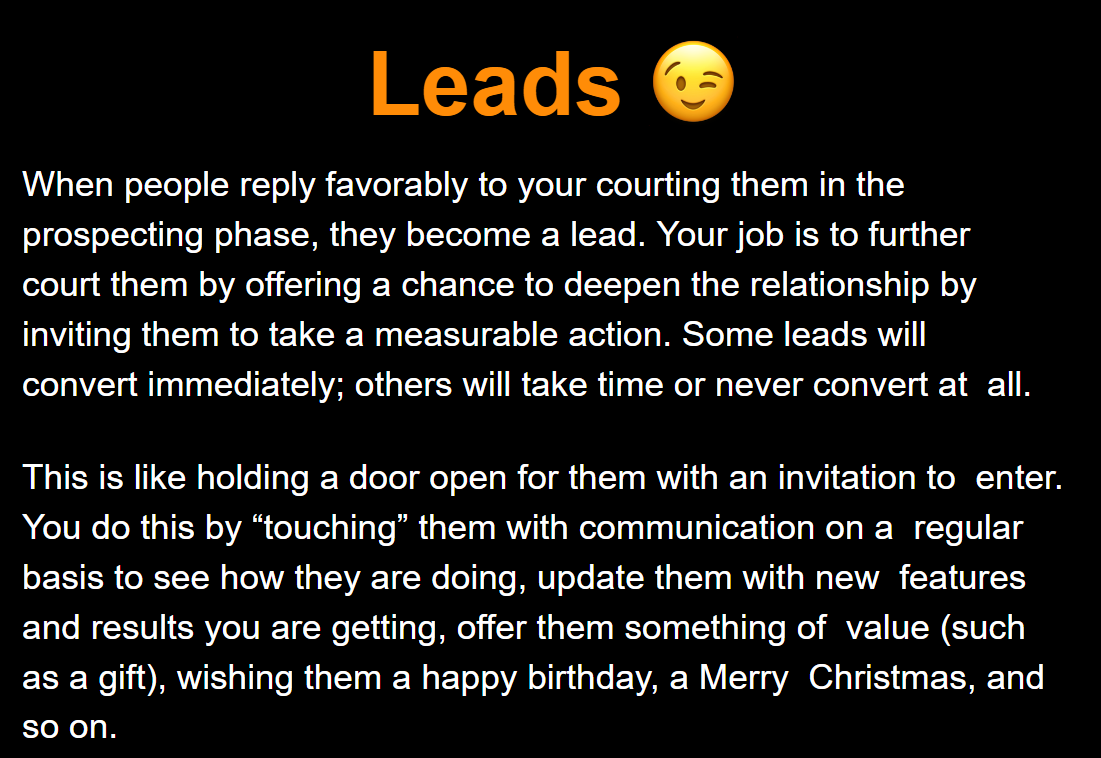 Leads
When people reply favorably to your courting them in the  prospecting phase, they become a lead. Your job is to further  court them by offering a chance to deepen the relationship by  inviting them to take a measurable action. Some leads will  convert immediately; others will take time or never convert at  all.
This is like holding a door open for them with an invitation to  enter. You do this by "touching" them with communication on a  regular basis to see how they are doing, update them with new  features and results you are getting, offer them something of  value (such as a gift), wishing them a happy birthday, a Merry Christmas, and so on.
Conversions / Clients
When leads convert, they become a client. To convert leads, make it as easy as possible for them to sign up. You also create compelling offers, demonstrate value, remove risk, and focus on what makes your product or service unique:
Offer them a 90-day money-back guarantee
Offer them a two-week free trial
Offer them a special bonus (bundling)
Create a price / value proposition that no one can beat.
The most important "golden rule" with clients: "touch" them  with communication ONCE PER WEEK, 50 times per year.  Even if they don't respond, never let them feel neglected.
Dead / Inactive Clients 😵
Keep a database of everyone who has ever worked with you or purchased from you before.
Previous users / clients that you worked with in the past should be considered leads; in fact these are some of the best leads and the  most important ones as reactivating them can help grow your business substantially.
So keep a list of your old / inactive clients and reach out to them once per quarter (four times per year).
"How are you doing?" Notify them of new features, ask them for referrals, and so on.
It is HUGE MISTAKE to never communicate again with customers who have discontinued your service; yet most companies do exactly that.
Conclusion: Your "True North" in Marketing
Always remember that all of our efforts as far as marketing is concerned has the objective of growing these four metrics. When we try to get traffic, for example, we are trying to increase a pool of prospects.
Our entire objective is to convert those prospects into leads, and then to customers through the use of enticing offers which can convert them.
The purpose of marketing is to sell. It is not to entertain, or to gain vanity metrics such as followers or likes, or anything else.
Whenever you feel doubt, or you feel lost, come back to this lesson and remind yourself about these four metrics. I don't want you to race years in business focusing on the wrong metrics, doing marketing the wrong way, and not being able to grow your business successfully.
Business growth comes down to growing these four things, and as long as you make a dedicated, consistent effort to growing these four metrics, you will always be in the game.
If you are looking for a full course and really want to take your business growth to new heights, The Growth Hacking and Lead Generation Masterclass is the place to start. You can use the coupon code "#10xgrowthhack2023" right now to get 15% off.